Siding
for your Home or Business
Affordable Rain Flow helps you determine what style of siding is best for your home or business. Then, they'll install it with perfection.
Exterior siding has multiple purposes. The most noticeable purpose is aesthetics. The material you go with for the exterior of your home or business largely influences its overall architectural style and curb appeal. Siding also protects your home from weather and improves insulation. Different materials work better for different climates – we can guide you through the best choice for our unique British Columbia climate. The right type of exterior siding also influences your home or business resale value.
Affordable Rain Flow will help you to choose the right materials for your project and then you can watch your curb appeal skyrocket!
Siding Installation
Done with precision and perfection our installers have all undergone certification training. Mike Frey, owner and operator of Affordable Rain Flow has over 30 years experience and oversees all siding projects to ensure the utmost quality.
Choosing the Right Siding
Choosing a siding may seem intimidating, especially when you want something that is both aesthetically and functionally pleasing. Fortunately, we offer plenty of product choices to meet your needs.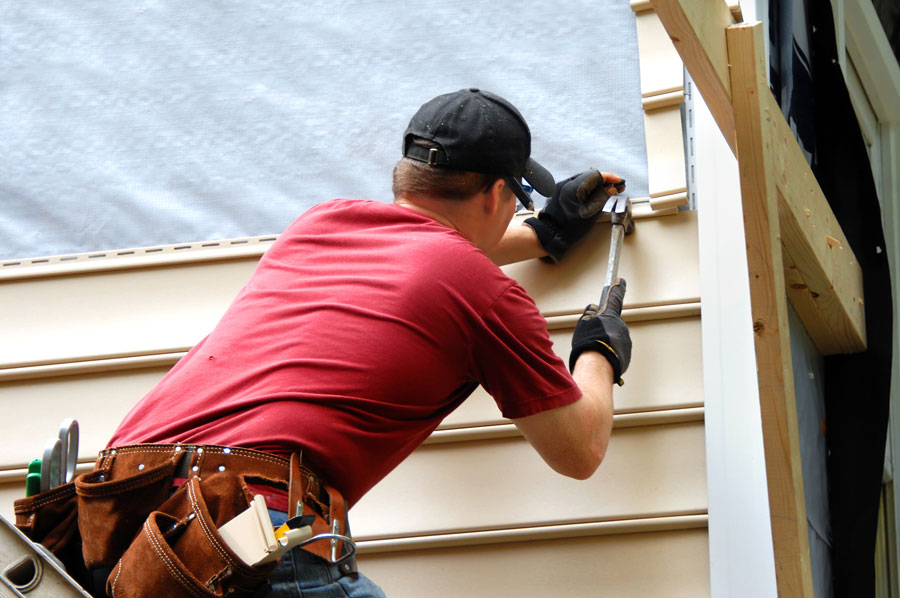 Affordable Rain Flow retains a $5 million General Liability Plan to cover their installers.
Canexel
Great white winters, stormy evenings, and stray hockey balls on warm nights when the neighbours come over. Those are just a few of the things your home may need to withstand. That's why LP® CanExel® prefinished siding is designed to be exceptionally durable while maintaining its authentic beauty. We believe that a home built to last requires siding that's built with integrity. 
Engineered in Canada to perform in Canada and abroad

Made with premium quality Axalta Coating System' Paints

Subjected to outdoor testing in a variety of Canadian climates

It's no wonder that builders and homeowners have trusted CanExel®

prefinished siding to improve their homes for over 40 years

Backed by a Warranty* That Offers Peace Of Mind.

Good for Customers, Good for the Planet.
Diamond Kote 
Diamond Kote complete siding system is backed by a 30 – Year No Fade Warranty, so you can feel confident every time you pull in the driveway. They understand beauty and function matters. Their siding system is designed to hide nail heads to create a flawless finished home. Upgrade your home with painted siding that resists harsh weather and impact including hail. Backed by a 5/50 Year Siding System Warranty.
Gain back your free time with low maintenance siding that will not peel, chalk or fade.

Other prefinishers use standard exterior house paint which requires periodic maintenance and recoating of the exterior siding.

A minimal investment in Diamond Kote pre-finish today will save you tens of thousands of dollars in repainting costs.
Premium Vinyl
A step up from regular vinyl, premium vinyl gives you a more wood-like appearance. It's usually a thicker vinyl that looks more rigid because it has no oil canning, as lighter vinyl does.
The upgrade to premium gives you more strength and longer lifespan. Many premium vinyl sidings also have integrated insulation or r-values (insulation grade) of 5 to 6. Premium vinyl cost is generally higher than vinyl. Premium vinyl also comes in a rainbow of colours for customization and personalization
Vinyl 
Vinyl siding dramatically and cost effectively transforms the exterior of any home. Kaycan's high-performance vinyl is superbly crafted with unsurpassed strength and durability. Discover our collection of vinyl siding styles, textures, colors and finishes to suit any project.
VERSATEX 
VERSATEX is created from cellular PVC, it is moisture and insect resistant while still featuring the real cedar look and woodworking characteristics a fine builder or craftsman desires. The result is a product limited only by your imagination. VERSATEX is an ideal solution for moisture sensitive areas, including those along coastal zones or regions affected by salt and high humidity. Most of the problems associated with wood trims are eliminated with VERSATEX. No more warping, cupping, or splitting – just a Trimboard and other accessories with high aesthetic value backed by a lifetime warranty.
Can be used in direct contact with masonry

Can be used in direct contact with moisture

Does not require painting

Weather resistant

Resists insects

Resists rot
Fusion Stone
Fusion Stone is an easy and budget-friendly way to beautifully upgrade a home, inside and out. A patented Shouldice innovation, Fusion Stone is a thin stone veneer that is easily installed with the included stainless steel clips and screws. Just screw it to the wall and it's "Hooked for Life."
Available in three distinct textures, all backed by a Lifetime Guarantee, Fusion Stone can be installed on both new and existing wall assemblies in any weather.
Century Railings 
Century Aluminum Railings is locally manufactured in Summerland, BC.
Century's success has been built on a long-standing history of providing top quality railing systems. All along Century has never forgotten the reason people choose their product – Premium product at competitive prices.Century Aluminum Railings operates an integrated head office and manufacturing plant where environmentally friendly processes allow Century to deliver a superior product – always.
Railings are offered in 4 types:
*Some product descriptions and references have been provided by our suppliers, industry brochures and other online sources.